You asked, we listened! Soon you'll be able to upgrade the MinistryOne app to include your church's very own custom branding.
In case you missed it, the full-featured MinistryOne app is already included with all our giving plans at no additional cost. But now, you have the option to upgrade for greater customization!
We understand the importance of bringing your own look and feel to the tools you use to manage your congregation and communicate with your community. Cohesive branding that your staff, volunteers, and members recognize makes MinistryOne a no-brainer. Your church won't be downloading a third-party app they've never heard of—they'll download YOUR custom branded app.
Here are just some of the new ways you can customize the MinistryOne app to make it your own.
1. Your Name & Icon
Does your church have its own logo? Use it as your app's icon so the people in your community can easily identify your app in a glance! It will also be customized with your church's name in the app store and on their home screen.
The easier your church is to find and recognize, the more people will want to use it every day. Plus, they'll take advantage of the full spectrum of features inside MinistryOne like prayer requests, online giving, event registration, and sermons. You can even bring your weekend service to the palms of your members' hands when you enable live streaming with our partner ChurchStreaming.
2. Splash Screen
Not only can you customize the app with your content, color palette, and logo, soon you can add a branded image to show up while the app is loading. That way, people know they're in the right place. Show off your church's best moments in this space by displaying images of your congregation, events you've hosted, or whatever else is important to your community!
This is one more opportunity to make the app unique and strengthen your church's brand by highlighting the experiences and moments that bond your community.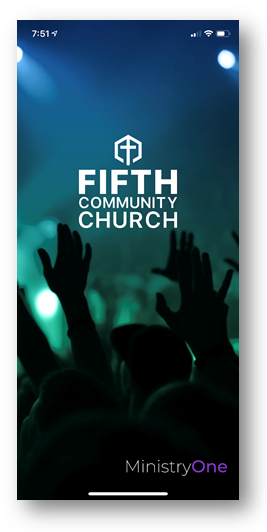 3. App Store
Direct people to YOUR page in the app store using your church's Apple account! There will be no questions about where you're sending your staff and members to download your church app or even what they are downloading.
With the new customizable features (and with your own spot on the app store), your community will develop greater trust in using the app. It won't take long to notice they depend on it for church resources and communication.
The more your congregation uses the app, the more confidently you can schedule messages and send alerts with push notifications, manage check ins and communicate with parents. And, you'll equip people to give directly from their mobile devices with one-time and recurring giving.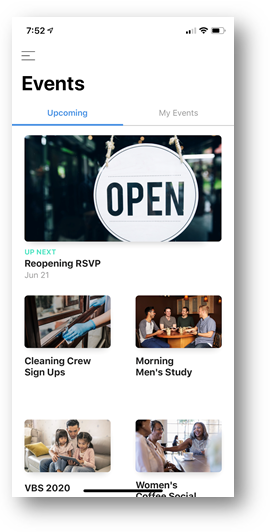 How great does all that sound? Whether you already love MinistryOne and are ready to take your app game to the next level or your church has just started looking into apps, our new Custom Branded upgrade is ideal.
You'll still get all the incredible features of our standard MinistryOne app (it's included with every giving plan at no additional cost!) but with plenty of room to build it out and make it completely unique to your church.
Already using another app? No problem!
We'll help you migrate for free and seamlessly replace your current product.
It's all coming soon to your giving platform!
Sign up below to be the first to be notified when this product is available.